On any given day of the week, you can usually find me hanging out at the house in a pair of yoga pants/ workout pants and some form of comfy tee-shirt or tank top. What can I say? Fashion is really important to me. 
You wouldn't believe that before I quit my job and became a stay at home mom I wore pencil skirts, blouses, and heels on a daily. I loved getting all dressed up to go to work. It just seems to be a little ridiculous to do all that to chase all the kids around my house. 
I do, however, still love fashion. I love putting together ideas of what I would wear if I were given the opportunity to throw function to the wind. It is this love and fantasy world of my clothing that I decided that I wanted to talk Harry Potter. 
Well, Harry Potter is really stuck in my head right now with Created By Nerds Witches, Wizards and Warlocks collection that will be launching 3/24, but it is more than that. Did you know there is a Harry Potter week? Yes! I just learned this. 
This is the month of Harry Potter revelations for myself. The first Harry Potter book was released 20 years ago, and there is a Harry Potter week. The week is the week of spring break that Hogwarts follows, March 24-30, for this year. 
In celebration of Harry Potter week and the release of our new collection, I'm talking Harry Potter fashion. I have discovered some absolutely fabulous pieces that I think everyone really must see. 
1. Official Harry Potter Golden Snitch Stud Earrings. 
These earrings are just absolutely beautiful and to be honest I really want a pair of them. Their simplicity is where I think the attraction comes to me. I love the design that doesn't over complicate the idea. These earrings are something that can be worn for an elegant night out with your husband or boyfriend or something that is simple enough to wear with your yoga pants and tee-shirt. Just an idea. 
2. I love you like Dobby loves sock
I have seen several version of socks out there related to Dobby, but there was just something about this version that made me want to go "aahhhh". These would make a wonderful valentines gift, personally. You are expressing your love for your significant other, or possible child, and your love for all things Harry Potter simultaneously. I call that a win-win. 
3. After All this TIme? Always .... Shoe decals?
YES! If you are getting married or are going on a second honeymoon than you need these decals to fancy up your heels. Honestly, I might just do this to my own heels just because they are fantastic. 
4. Sparkly Harry Potter ballet flats
Heels are wonderful and fantastic at making your legs look long and your posture amazing, but they aren't the most comfortable thing to wear for long periods of time. This is where these absolutely beautiful ballet flats come into the picture. They look like I could live in them. The color might cause an issue, but really if I'm careful they might last awhile. The glasses and lightning bolt are just to stinking perfect. Really, I'm in love.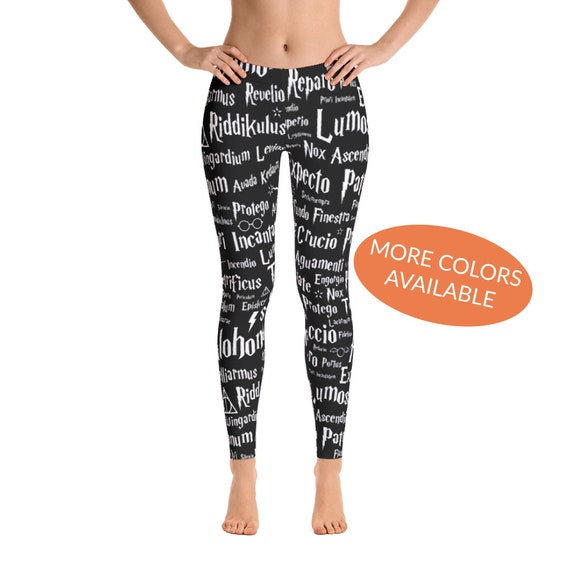 YAY! Something that I can wear every day (what did she just say). There are so many styles of fabric out there with Harry Potter designs out there. I'm not really a fan of many of them though. I did find a pair that I'm kinda loving right now. All the magical spells all over the legs. It's just what a witch with a bad memory needs. It's kinda like a cheat sheet during a test. 
6. Slytherin House Cotton Tee
I'm going to finish off my list on a little bit of a bias design since it is one of mine, but really I'm kinda just in love with it right now. The Slytherin House tee from the Witches, Wizards and Warlocks collection by Created by Nerds. This tee shows that not just because you are a Slytherin means that you are evil and corrupted. The true nature of those found to be in the house of Slytherin are qualities that many strive to have: cleverness, leardership, ambition and shrewdness. I myself have been told I have all those qualities, but I'm not about to go out and start being naughty. 
hmmm Or am I? (Scratching my chin)
*sigh*
I guess it is back to my daydream of where I dress up in pretty cloths again and don't find myself living in my pajamas all day. 
 Do you hang out in your pajamas all day? Do you love fashion too? What are some of your favorite Harry Potter fashion accessories? 
Sign up for more of my awesome blogs